The study programme prepares professionals with in-depth knowledge of political systems and public administration. The students gain an understanding of international developments, the socio-economic and political processes of the European Union, as well as Latvia's place therein. After completion of the programme, the students are equally qualified to carry out research and participate in socio-political processes at international, regional and local levels, to develop sectoral policies and to prepare policy documents.
In the 2nd study year or 4th semester, students choose a specialisation in one of the 5 study sub-programmes:
The sub-programme "European Studies" enables the students to independently analyse Latvian and European political processes, to elaborate organizational development strategies in the European context and to acquire argumentation skills.
In the sub-programme "International Policy", the students gain comprehensive knowledge of international relations, since interaction with other countries is a part of the daily routine of those working in public administration, large municipalities and private companies.
In the sub-programme "Politics and Society", the students acquire understanding of the main concepts of comparative politics and political theory, their use in research and ability to independently analyse political processes, viewing them in their context and conjunction.
In the sub-programme "Public Policy and Administration", students learn about the structure and functioning of institutions, personnel, financial and project management in institutions, acquire skills required to prepare planning documents, internal regulations in the field of personnel, project and financial management, develop and manage EU and local projects.
In the sub-programme "European Governance", students gain a comprehensive academic knowledge of the EU, its administration, as well as the policies of individual European countries, becoming conversant with the main techniques applied in analysis of both national and European political processes.
Acting Director of the Study Programme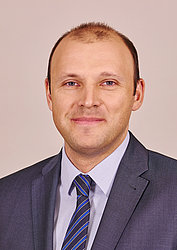 Associate professor Toms Rostoks
The graduates can build a career in public institutions of all levels (Latvian parliament and ministries, local governments), public organizations, parties and various foundations, in the private sector (banks, consulting business, companies). The holder of this degree can be an office manager, diplomat, lecturer, member of parliament or local government.
Full-time regular studies – 3 years or 6 semesters. The studies take place on working days, mainly from 8:30 to 18:00, depending on the timetable of each particular day.
Tuition fee per year: full-time regular studies – EUR 2300; part-time correspondence studies (distance learning) – EUR 1750
For admission in the 1st year of full-time regular studies, the autumn semester of 2022/2023 – 18 budget-funded places. If a budget-funded place is not available immediately, it can still be obtained in the 2nd year of studies, because UL FSS practices rotation system – the students with good results can be awarded a budget-funded place on the basis of their performance.
Bachelor of Social Sciences in Political Science
General conditions
Completed secondary education
Competition criteria for persons who have acquired secondary education from 2004:
CE in Latvian language
CE in English or CE in French, or CE in German
CE in mathematics*
Average score of all CE passed by the person
* For persons who have completed secondary education before 2008, the centralized examination (CE) in mathematics may be replaced by the annual grade in mathematics indicated in the secondary education document (or the average grade in algebra and geometry)
Competition criteria for persons who have completed secondary education up to 2004 (excluding), as well as for those who have acquired secondary education abroad, or persons with special needs:
annual average grade in Latvian language and literature
annual grade in English or French or German language
annual grade in Mathematics (or average grade in Algebra and Geometry)
annual average grade in mandatory subjects
Additional points: the winners of the 1st–3rd level of the Latvian Secondary School Student Scientific Research Conference, field of political science in 2022 and 2023 and the 1st–3rd place winners of the SZF Young Politicians School of the University of Latvia in 2022 and 2023 are awarded additional points: the winners of the 1st level/place will receive 100 points, the winners of the 2nd level/place – 75 points, the winners of the 3rd level/place – 50 points.