The study programme is dedicated to educating specialists with knowledge and skills in communication and media analysis. The students learn to understand communication processes, critically evaluate and analyse them, and most importantly – to create and influence them. The study programme "Communication Science" has 2 sub-programmes: Business communication and Media studies. Specialisation in one of them begins starting with the 3rd (full-time students) or 4th (part-time correspondence – distance learning students) semester.
Director of Study Programme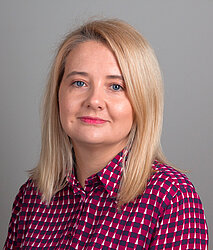 Asoc. prof. Marita Zitmane
In the 1st year, the students acquire basic knowledge of theories of communication, media and culture, the history of their formation, as well as topical changes, the operational principles of science and research, the challenges of the contemporary environment, new media formats. The students also improve their language proficiency and writing skills.
In the 2nd year, the students specialise in study field of their choice – journalism, advertising, corporate communication or multimedia studies, getting to know the specifics of these fields, the principles of theory and practice.
In the 3rd year, the students apply the acquired knowledge in practice, trying their hand in an actual work environment – creating and implementing their own projects and ideas, while new knowledge is amassed by developing a bachelor's thesis.
Part-time correspondence studies (distance learning) ensure acquisition of the same knowledge and skills in the same logical sequence, only over a longer period of time.
HOW ARE THE STUDIES LINKED WITH PRACTICE?
The programme includes an internship (for full-time students – in the 6th semester, for part-time correspondence students – in the 7th semester) in the sub-programme of their specialisation. During the internship, students work in leading media, companies and institutions, engaging in the development of a specific project.
Students can benefit from ERASMUS exchange studies choosing amongst 20 different foreign universities, including Malta, Helsinki, Barcelona, Madrid, Porto, Magdeburg, Greifswald, Turin, Pisa, Jyväskylä, Seville, etc.
Career opportunities after graduation are extensive – in Latvian and international public relations and advertising companies, television, radio, press and Internet media, state, municipal and private company departments, which ensure communication with partners, customers and the public.
Full-time regular studies – 3 years or 6 semesters. The studies take place on working days, mainly from 8:30 to 18:00, depending on the timetable of each particular day. Part-time correspondence studies (distance learning) – 3.5 years or 7 semesters. The studies take place every Saturday from 9:00 to 16:00.
Tuition fee per year: full-time regular studies – EUR 2300; part-time correspondence studies (distance learning) – EUR 1750
For admission in the 1st year of full-time regular studies, the autumn semester of 2022/2023 – 18 budget-funded places. If a budget-funded place is not available immediately, it can still be obtained in the 2nd year of studies, because UL FSS practices rotation system – the students with good results can be awarded a budget-funded place on the basis of their performance.
Bachelor's Degree of Social Sciences in Journalism and Communication
General conditions
Completed secondary education
Competition criteria for persons who have acquired secondary education from 2004:
CE in Latvian language
CE in English or CE in French, or CE in German
CE in mathematics*
Average score of all CE passed by the person
* For persons who have completed secondary education before 2008, the centralized examination (CE) in mathematics may be replaced by the annual grade in mathematics indicated in the secondary education document (or the average grade in algebra and geometry)
Competition criteria for persons who have completed secondary education up to 2004 (excluding), as well as for those who have acquired secondary education abroad, or persons with special needs:
annual average grade in Latvian language and literature
annual grade in English or French or German language
annual grade in Mathematics (or average grade in Algebra and Geometry)
annual average grade in mandatory subjects
Additional points: The 1st-3rd place winners of the School of Young Communicators of LU SZF in 2022 and 2023 receive additional points: 1st place winners receive 100 points, 2nd place winners - 75 points, 3rd place winners - 50 points.
Full-time regular studies programme methodologist Dace Valtiņa, room 224, tel. 67140411, e-mail: dace.valtina@lu.lv
Part-time correspondence studies (distance learning) programme methodologist Liene Znotiņa, room 223, tel. 67140533, e-mail: liene.znotina@lu.lv