Studies in the master's programme "Sociology" provide an advanced level of knowledge required for the research process – from A to Z. Students acquire skills and competences, apply this knowledge in practice, independently seek solutions to complex issues and manage the research process, as well as the research team.
The aim of the programme is to train highly qualified specialists for independent work in research and management of a research group, continuation of academic career in doctoral studies, employment in sociology-related fields – social and marketing research, public administration, social policy analysis and social work management.
Director of Study Programme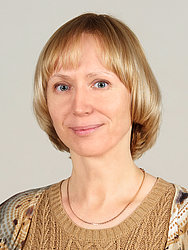 Associate professor Baiba Bela
Programme graduates successfully work in public opinion and market research companies (e.g., SKDS, TNS, "Latvijas Fakti", "Factum"), ministries (e.g., Welfare, Culture, Education), state and municipal institutions (e.g., State Probation Service), private sector (e.g., advertising industry, consultancy companies, implementation of impact assessment research, etc.). Graduates with a profound interest in an academic career continue their doctoral studies in Latvia and elsewhere in Europe, as well as the USA.
Full-time regular studies – 2 years or 4 semesters. The obligatory courses take place four evenings a week from 18:15 to 21:30, while elective courses – from 16:30 to 18:00.
Tuition fee per year: full-time regular studies – EUR 2350
For admission in the 1st year of full-time regular studies, the autumn semester of 2022/2023 – 10 budget-funded places. If a budget-funded place is not available immediately, it can still be obtained in the 2nd year of studies, because UL FSS practices rotation system – the students with good results can be awarded a budget-funded place on the basis of their performance.
Master's Degree of Social Sciences in Sociology
General conditions
Previous education:
Bachelor's degree or second level professional higher education, or equivalent higher education.
Competition result calculation formula: entrance examination (1 x 1000 = 1000), the minimum passing score obtained in the entrance examination valid for admission – 500; Those holding a UL bachelor's degree in sociology can participate in the competition with the following competition result calculation formula: weighted average grade (60 x 10 = 600) + total (or average) grade of final examinations (40 x 10 = 400).
Eligibility for noncompetition registration: the graduates of the UL bachelor's study programme "Sociology" of academic year 2022/2023, whose weighted average grade in bachelor studies is not lower than 8 and the evaluation of the bachelor thesis is not lower than 9 (excellent).
Additional requirement: Curriculum Vitae (CV).