The core of the study programme consists of courses in diplomacy, foreign policy and international relations, in which the acquisition of both theoretical knowledge and applicable skills is equally important. The aim is to educate highly qualified and professional specialists, providing the required set of knowledge in diplomacy and international relations to work in the Ministry of Foreign Affairs of the Republic of Latvia (including Latvian embassies and consulates abroad), Ministry of Defence and other public administration institutions, international institutions and the private sector requiring skills and in-depth knowledge of international relations, international organizations and decision-making. Andrejs Pildegovičs' Diplomacy Scholarship has been established to motivate students and support the study programme, every year enabling one student to receive significant financial support from the UL Foundation.
Director of the Study Programme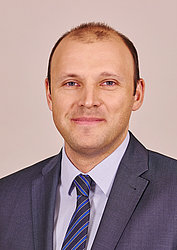 Associate professor Toms Rostoks
The 1st year
History of diplomacy, current affairs of international relations, economic diplomacy, public diplomacy, intercultural diplomacy, research methods, foreign policy decision-making, European Union foreign policy.
The 2nd year
Multilateral diplomacy, theories of international relations, foreign policy of Latvia, foreign policy, US foreign policy of Russia, diplomatic protocol, national security.
HOW ARE THE STUDIES LINKED WITH PRACTICE?
Decision-making and practical aspects of diplomatic work are considered and examined in the study process. Most of the courses involve guest lecturers – professionals of the field with practical experience and extensive knowledge in highly specialisted professional topics. Students can benefit from ERASMUS exchange studies to universities abroad, participate in exchange programmes.
Diplomacy studies open up career opportunities in the Ministry of Foreign Affairs, the Ministry of Defence and embassies, other ministries, municipal and state institutions involved in international co-operation, as well as in private companies with international operations.
Full-time regular studies – 2 years or 4 semesters. The studies take place on Thursday and Friday evenings from 8:15 (occasionally from 16:30) and on Saturdays.
Tuition fee per year: full-time regular studies – EUR 2350
Master's Degree of Social Sciences in Diplomacy
General conditions
Previous education:
Bachelor's degree or second level professional higher education, or equivalent higher education.
Competition result calculation formula: entrance examination (1 x 1000 = 1000), the minimum score obtained in the entrance examination valid for admission – 400;
Those holding a bachelor's degree or second level professional higher education in political science can participate in the competition with the following competition result calculation formula: weighted average grade (60 x 10 = 600) + total (or average) grade of final examinations (40 x 10 = 400);
Additional requirement:
Curriculum Vitae (CV).