The Master's study programme "Geology" provides academic education in geology, ensures modern theoretical and methodological knowledge in such subfields as Quaternary geology and geomorphology, Applied geology and Bedrock geology. The programme develops skills in scientific research work, providing opportunities to participate in the activities of two doctoral schools - "Earth resources and their sustainable use" and "Animal diversity and environmental quality". The programme contributes to the strengthening of practical skills necessary for the labor market, including a choice of the applied geology study course in one of the companies or organizations working in the field of geology.
Study program director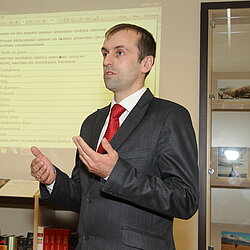 Associate professor Ģirts Stinkulis
The content of the study program contributes to the acquisition of high professional qualifications in geology. By studying such compulsory courses as "Earth dynamic systems", "Regional geology and geomorphology of Latvia", "Data bases and geological modelling", "Geology of mineral deposits", "Tectonics", as well as a series of elective courses, students have the opportunity to learn the most current knowledge in geology and related Earth sciences, important scientific issues of modern geology and changes in the implementation of research in the European Union and worldwide. Specialization and acquisition of skills in sub-fields of geology is provided by elective courses such as "Glacial Geology" and "Quaternary Environment and Stratigraphy" in Quaternary Geology, "Micropaleontology", "Sedimentary Environment and Processes", "Event and Sequence Stratigraphy" in Bedrock Geology, "Testing and Investigation Methods in Engineering Geology and their Methodology", "Groundwater resources, dynamics and monitoring", "Georadar survey in geological studies" and others in Applied Geology.
In Latvia, geological research is important for the construction of houses, roads and other structures, as well as mineral and ground water research, therefore the job market in geology is wide. Many work options are in private companies, the Latvian Environment, Geology and Meteorology Centre, as well as in other state and local government institutions. Qualified specialists are also needed in UL and other universities - they can be involved in student training, work in laboratories and realization of scientific research. Graduates of the program often find work in European Union countries or continue their doctoral studies both in Europe and worldwide.
Annual tuition fee - 2400 EUR
For admission in the autumn semester of 2022 – 25
Master of Natural Sciences in Geology
General requirements for international students: https://www.lu.lv/en/admissions/degree-studies/ , https://www.lu.lv/en/admission/for-international-students/degree/
Previous education: Bachelor's and/or Master's degree or second level professional higher education or equivalent higher education in natural sciences. Bachelor's and/or Master's degree or second level professional higher education or equivalent higher education in other fields of sciences, and entrance examination.
Competition evaluation criteria: weighted average grade in previous studies; the overall (or average) grade of the final exams in previous studies; entrance exam.
Additional condition: Curriculum Vitae (CV).
The entrance examamination takes into account:
1) evaluation of the questions of the interview;
2) the motivation for the choice of studies, the intended research direction;
3) work experience in research, presenting a report at scientific conferences;
4) internship at foreign universities and research institutions;
5) the actuality of the expected topic of the Master's thesis and its relevance to current directions of geological research;
6) present implementation state of the Master's thesis.