The aim of the study programme is to train a labour protection specialist as a purposeful personality, able to organize, create and manage a work safety system in a company and capable of involving employees in improving their working environment, thus ensuring improvement in the quality of life of all employees.
Location:
Riga (part-time regular studies)
Regional branch of Alūksne (part-time regular studies)
Programme Director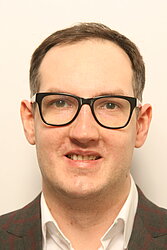 Students acquire knowledge of the basics of labour rights, labour protection legislation, assessment of work environment risk factors, basics of occupational health, basics of work ergonomics.
Entitlement to enter bachelor's study programmes or second-level professional higher education programmes, the studies may also be continued in the professional bachelor's programme "Occupational Health and Safety at Work". Furthermore, this education enables the graduate to successfully compete in the labour market in capacity of a labour protection specialist.
2 years 3 months part-time regular studies, 80 Latvian credit points
Tuition fee per year - 1700 EUR
Labour protection specialist
Previous education: Secondary education
Competition criteria for persons who have acquired secondary education from 2004:
CE in Latvian language
CE in mathematics*
CE in English or CE in French, or CE in German, or CE in Russian
Average score of all CEs passed by the person
* For persons who have completed secondary education before 2008, the centralized examination (CE) in mathematics may be replaced by the annual grade in mathematics indicated in the secondary education document (or the average grade in algebra and geometry)
Competition criteria for persons who have completed secondary education up to 2004 (excluding), as well as for those who have acquired secondary education abroad, or persons with special needs:
annual average grade in Latvian language and literature
annual grade in mathematics (or average grade in algebra and geometry)
annual average grade in mandatory subjects