Radiography – professional bachelor study programme
Language of instruction: Latvian
The study program is implemented for the preparation of competent, meeting today's requirements, multi-professional radiographers for work with modern digital technologies. During studies, students acquire skills in patient care in radiology and radiation therapy, working in various medical care institutions in Latvia. Specialists are trained in accordance with the standard of the radiographer's profession, ensuring the development of students' personalities.
Program Director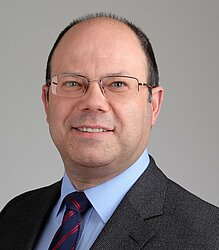 Assoc. Prof. Ainārs Bajinskis
The study program offers to acquire knowledge and skills in performing diagnostic radiology, computed tomography, magnetic resonance imaging, radionuclide diagnostics, ultrasonography, as well as nuclear therapy and radiation therapy procedures. Students acquire knowledge about radiological examinations, the quality of professional activity and cooperation with radiologists and medical physicists. Upon completion of the studies, student is able to evaluate the quality of the obtained diagnostic images and procedures, knows and is able to apply radiation safety and protection measures, thus protecting both the patient and those around him from the effects of ionizing radiation.
The study program provides a practice in the radiology departments of leading medical institutions. During the clinical placement, student, under clinical supervision, practically applies the acquired knowledge, performing diagnostic examinations and therapy procedures.
It is possible to spend a certain period of study in cooperation universities abroad within the framework of the Erasmus + exchange program.
Organization of studies: on working days, mainly between 8.30-18.00, depending on a study plan for the day.
Graduates of the study program work in various medical institutions - hospitals, health care centers, doctorates, private practices and have the opportunity to specialize not only in diagnostic radiology methods, but also in radionuclide diagnostics and radiation therapy.
For high school graduates: 4 years or 8 semesters. For medical college graduates: at least 2 semesters depending on previous education.
Professional bachelor's degree in Radiography, qualification "Radiographer"
Admission for the 1st semester (there will be no admission for 1st semester in 2021/2022)
General rules (here)
Completed secondary education
Competition criteria for persons with an obtained secondary education on year 2004 and onwards:
CE in Latvian
CE in Physics or CE in Chemistry, or CE in Biology
CE in English or CE in French, or CE in German
CE in Maths*
* For persons who have completed secondary education before 2008, the centralized examination in mathematics may be replaced by the annual mark of the secondary education document in mathematics (or the average mark in algebra and geometry)
Competition criteria for persons with an obtained secondary education up to year 2004 (not included) as well as persons who have obtained their secondary education abroad and persons with special needs:
final average grade in Latvian and Literature
final grade in English or in French, or in German
final average grade in certain subjects
Graduates of medical colleges (since 2004), who have obtained the 1st level professional higher education and qualification "Radiologist Assistant", are admitted in accordance with the procedures specified in the regulations of the University of Latvia, in accordance with the Cabinet Regulation No. 932 - Procedure for starting studies in later study stages.
Persons who have a first level higher education with the qualification "Radiologist Assistant" - can start studies in the professional bachelor's study program "Radiography" in the 7th semester (4th study year).