MEDICINE - 2ND LEVEL PROFESSIONAL HIGHER EDUCATION STUDY PROGRAM
The study program is based on Scandinavian experience and is based on the principle that the student is the center of studies;
Student groups are small and training is personalized;
The study program is comprehensive, because, unlike specialized universities, it offers an additional choice of courses, giving the opportunity to gain knowledge in other fields of science, such as foreign languages, psychology, economics, and law, which allows young professionals to compete in the labor market more successfully;
As the UL is a research university, students have the opportunity to get involved in scientific projects from the 1st year of studies;
Intensive practice for prospective physicians begins in the 3rd year of studies, successfully combining theoretical and practical training. The time of practice in hospitals is not only longer than in other universities, but the training is individual and involves real work with the patient, not just observations.
Program Director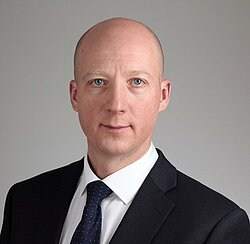 Assoc. Prof. Arnolds Jezupovs
The study curriculum is divided in 3 parts: A part (mandatory subjects), B part (mandatory selection) and C part (electives).
During your studies you will have to take A part subjects worth 333 ECTS (222 Latvian credit points) – Normal anatomy, Chemistry, Introduction to cell biology, Medical Latin, Introduction to medical studies, Psychology and basics of psychiatry, Physics, General and special histology, Basics of genetics, Basics of biochemistry, Medical embriology, Human physiology, Physical and sports medicine, Medical biochemistry, Microbiology, Parasitology, Immunology, General pathology, Molecular genetics, Pharmacology, Propaedeutics of Internal diseases, Environmental protection, Visual diagnostics, Principles of surgery, Internal diseases, Pathology of organs and systems, Obstetrics, Dermatovenerology, Public health and epidemiology, Pediatrics, Gynecology, Infectious diseases, Surgery, Neurology, Urology, Medical history and ethics, Narcology, Ophtalmology, Otorhinolaryngology, Oncology, Radiology, Forensic medicine, Specific Considerations of Surgery and Anesthesiology, Psychiatry, Neurosurgery, Orthopaedics.
B part subjects are worth 15 ECTS (10 Latvian credit points), and C part courses – 12 ECTS (8 Latvian credit points).
During your studies you will also have practice in different areas: Basics of Clinical care (5th semester), Clinical practice (5th, 7th, 8th, 10th, 11th semesters), Emergency medicine and basic life support (6th semester), Practice of Family medicine (12th semester), Practice of Internal diseases (12th semester), Practice of surgery (12th semester).
It is possible to spend a certain study period at another university abroad within the framework of Erasmus+ and other exchange programs.
Medical doctors may work in healthcare institutions, pharmaceutical companies, scientific institutions, and government institutions.
Graduates can continue their studies in medical residency and work under the supervision of a practicing physician to obtain a medical speciality or enter doctoral studies to do research (PhD).
Tuition fee for the 1st year - 10238 EUR
Apply for studies here.
EU and EEA citizens have to apply till 01.07.
Citizens of Visa-free countries have to apply till 15.06.
Citizens of non-EU/EEA countries have to apply till 15.05.
Citizens of countries with additional assessment have to apply till 15.05.
General rules (here)
Completed Secondary Education
Competition criteria for persons with an obtained secondary education in LATVIA on year 2004 and onwards:
CE in Latvian
CE in Physics or CE in Chemistry, or CE in Biology
CE in English or CE in French, or CE in German
CE in Maths*
* For persons who have completed secondary education before 2008, the centralized examination in mathematics may be replaced by the annual mark of the secondary education document in mathematics (or the average mark in algebra and geometry).
Competition criteria for persons with an obtained secondary education up to year 2004 (not included) as well as persons who have obtained their secondary education ABROAD and persons with special needs:
1. Final grade in Chemistry (at least 60% or 6 out of 10)
2. Final grade in Biology (at least 60% or 6 out of 10)
3. Final grade in English (at least 60% or 6 out of 10)
OR – if the applicant hasn't studied either Chemistry or Biology
1. Final grade in Natural sciences (at least 60% or 6 out of 10)
2. Final grade in English (at least 60% or 6 out of 10)
The grades will be compared to the grading system in Latvia so each specific case will be reviewed individually.
Since studies take place in English, the applicants need to be able to demonstrate good knowledge of English language.