Cultural and Social Anthropology Master Study Programme
Anthropology aims to study humanity in its social and cultural diversity. Anthropology is becoming increasingly relevant given shrinking distances in terms of global mobility, intensification in migration and ever-increasing inter-cultural contact. Further, once seemingly homogenous local societies display increasing inner diversity.
The aim of cultural and social anthropology master's study programme is the preparation of specialists in socio-cultural anthropology at an advanced level who are able to orient themselves within historical and contemporary knowledge in anthropology, design and conduct anthropological research, and critically and systematically analyse social and cultural processes. Graduates acquire a master of humanities degree in Anthropology.

The task of cultural and social anthropology master's study programme is supporting students in
strengthening academic thinking and writing skills, as well as in communicating academic knowledge in society
acquiring advanced academic knowledge in sociocultural anthropology, providing systematic knowledge in theory, use of anthropological concepts, research methods and techniques, research ethics
using anthropological knowledge, methods and ethnographic examples in analysing diverse social and cultural issues at advanced level
strengthening skills, knowledge and competences in designing, managing and implementing the research process: description of social and cultural process, formulating research problems, evaluation and analysis, preparation of research proposals, choosing relevant research methods and data collection, methods of processing, analysis and interpretation
in conducting independent scientific research, strengthening individual and team work experience, developing argumentation, critical evaluation of research responsibilities and creating ethical relationships with the participants of research as well as colleagues;
developing skills necessary for further professional and personal development: supporting determination, responsibility, laying foundations for professional development in anthropology and beyond.
Director of the Programme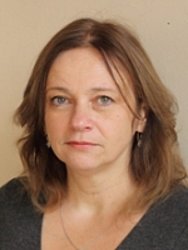 PhD., asoc. prof. Aivita Putniņa
Anthropology's broad and intercultural perspective helps us to systematize our views, and to understand and analyse human relationships and cultural phenomena. Students learn to better analyse cultural and social processes through participation in lectures and seminars, through reading and writing, as well as practically when conducting field-work, thereby deepening knowledge and intensifying skills acquired during the programme. The masters level programme is the next step after the bachelor's level programme, offering anthropological training at an advanced level which positions anthropology within the social and human sciences. Students without prior training in anthropology are provided with training in the core fields and subject areas of the discipline and are thus able to fully participate in the programme. The programme structure is based on three strands: A theory strand allows students to develop theoretical reasoning skills, strengthen their academic reading skills, as well as advancing and deepening their skills in writing, thinking and argumentation. The methodology strand consists of a methodology course complemented by a guided field-work course, based on the interests of students and instructors and supported by thematic micro-projects. This strand concludes with a compulsory master's thesis. Thematic courses allow students to strengthen the link between the theoretical and empirical, ethnographic knowledge. The precise range of topics can be found in the study plan below.
The programme has been available to international students since 2014. Students can also participate in the Erasmus+ exchange programme in partner institutions, or indeed establish contacts of their own.
The Anthropology programme allows for not only the preparation of academically-educated anthropologists but serves as a further step in personal and professional development, offering analytical, managerial and life skills which can be used in entrepreneurship, or in the state, municipal or NGO sectors.
Students acquire skills necessary for advanced careers within research companies or in analytical positions in enterprises or institutions. The programme allows for the development not only of anthropology-specific skills and knowledge but also those for work management, team work, systematic thinking and writing – in high demand in the labour market.
4 semesters (2 years), however, part time study option allow students to acquire the programme at a slower pace, obtaining 80 KP (120 ECTS) at the graduation. Distinct courses are also available for an individual enrolment through the university study system.
EU/EEA/Swiss citizens, permanent residence permit holders and their family members 2000 euro per year, other country citizens 3699 per year.
10 state -financed places as of autumn 2019. Only EU/EEA/Swiss citizens and EU long-term resident status holders can compete for a state-financed study place.
Master of Humanities in Anthropology
Bachelor's degree or a diploma proving equivalent level of education from an institution of higher education; English language proficiency.