Geography helps us to understand our rapidly changing and challenging world better. Critical thinking and understanding development trends and regularities of natural and social processes are integral to geography studies.
The bachelor's study program provides high-quality academic knowledge and develops research work skills and abilities. Students consolidate the acquired theoretical knowledge in seminars, practical and laboratory work, and field courses. The bachelor's program gives an in-depth insight into natural and human geography and regional and applied studies. Students acquire unique knowledge in geographic information systems (GIS), cartography and remote sensing courses. The final theses of the bachelor's study program confirm the importance of research-based studies in the branches of science represented by geography.
Study program director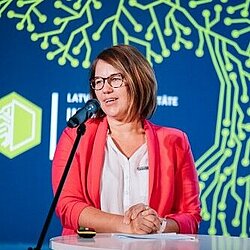 Assistant professor Elīna Apsīte-Beriņa
List of essential study subjects student acquire during studies:
Landscape geography
Soil science
Biogeography
Human geography
Data analysis in environmental and earth sciences
Geography of Latvia
Earth physics
Geomorphology
Hydrology
Earth science
Climatology
Earth remote sensing
Geographic information systems
Applied studies in the basics of geography
Territorial development and planning
Applied geology
etc.
Geographers are professionals in demand in the labour market in public institutions and private sector companies. Graduates of the program are sought-after specialists at the Centre for Environment, Geology and Meteorology of Latvia, the Geospatial Information Agency of Latvia, JSC "Latvijas valsts meži", the Central Statistics Office, the State Land Service, city and county municipalities. Many geographers build successful careers in Latvia's most significant transport and logistics, communications, and energy companies.
Private companies created and developed by geographers are attractive employers. For example, the largest private cartographic company in the Baltics, "Karšu izdevniecība Jāņas sēta", was also established by geographers.
Geographical knowledge and practical work skills are essential parts of any team that requires solving complex problems, creativity and familiarity with spatial regularities.
Full-time studies: 6 semesters (3 years) Part –time studies: 8 semesters (4 years)
Annual tuition fee - 2200 EUR
For admission in the autumn semester of 2022 – 50
Bachelor of Natural Sciences in Geography