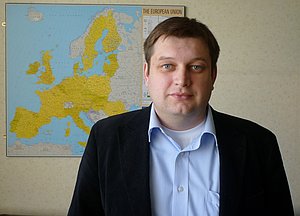 Latvian scholar visiting European Policies Researcher Centre
Researcher at the Centre for European and Transition Studies (CETS) of the University of Latvia and currently also working as project director at the environmental consultancy company Vides Projekti, Jānis Aprāns, has recently spent some time as a visiting researcher at EPRC.
On 20 October 2010, he gave a seminar presentation on the implementation of Cohesion policy in Latvia. The presentation was based on his experiences both in the Latvian public administration and as a consultant. He pointed the importance of Structural Funds in Latvia and discussed the effects of the economic crisis.
Jānis is also undertaking a PhD at the Faculty of Economics and Management of the University of Latvia, and he presented his current research on the effectiveness of the Latvian implementation system for Cohesion policy. For more information, please, visit
the EPRC homepage
.